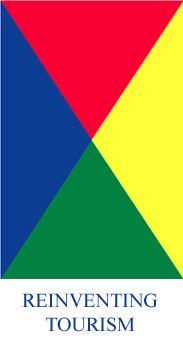 Strategy for Abu Dhabi
Strategic Plans - Strategy for Abu Dhabi
"Stay Different" Strategy for Abu Dhabi
The Challenge
The Capital of the United Arab Emirates, Abu Dhabi, was being over-shadowed by the rapidly growing Dubai.
There was a need for Abu Dhabi take its rightful place among the world's capital cities
Tourism in Abu Dhabi was growing, but needed to be strategically planned for. What type of tourism would be appropriate for Abu Dhabi? Should the Capital City follow the route that Dubai had taken?
How do the local people want their city to develop? How can tourism also satisfy the local demand for re-creation.
Which projects policies, strategies are needed to guide the tourism sector?
How can tourism develop without endangering the culture and traditions of the country?
TII Methods:
Tourism Intelligence International assembled a multi-disciplinary team of experts made up of marketing experts, researchers, economists, statistical and financial analysts and tourism experts.
Analysis of the perception of Abu Dhabi in Europe through expert one-on-one interviews with key industry partners and surveys in 2 main European Markets (Germany and UK).
Statistical analysis and forecasts of performance and prospects by markets as well as by region.
Product assessment through on-site visits.
Expert interviews with ALL key local stakeholders.
Secondary research & analysis of international, regional, consumer and industry trends.
Presentations of preliminary findings, discussion sessions, brainstorming meetings and continuous feedback from and with stakeholders
Results
Developed the institutional framework for the Abu Dhabi Tourism Authority in November 2003. The Abu Dhabi Tourism Authority (ADTA) was established in September 2004;
Tourism Policy and Strategy Developed - Recommended that Abu Dhabi 'Stay Different' from Dubai; complement and not compete with Dubai; focus on its rich culture, heritage and traditions; focus on quality and excellence and not quantity;
Cater to the unique local demand for recreation and relaxation;
Proposed that Abu Dhabi assumes its role as the true capital of the Emirates, with an appropriate ICON for the Capital City - The Pearl - a pearl-like glass structure on 11 floors, out at sea, that would celebrate the life and times of what is perhaps, its most unique attribute - its leader, the late Ruler Sheik Zayed bin Sultan Al Nahyan (1971-2004).